Oregonian Obit.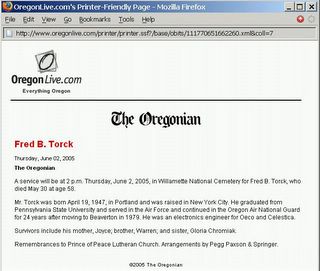 Obituary notice from the Oregonian
, 02 Jun 2005.

A service will be at 2 p.m. Thursday, June 2, 2005, in Willamette National Cemetery for Fred B. Torck, who died May 30 at age 58.

Mr. Torck was born April 19, 1947, in Portland and was raised in New York City. He graduated from Pennsylvania State University and served in the Air Force and continued in the Oregon Air National Guard for 24 years after moving to Beaverton in 1979. He was an electronics engineer for Oeco and Celestica.

Survivors include his mother, Joyce; brother, Warren; and sister, Gloria Chromiak.

Remembrances to Prince of Peace Lutheran Church. Arrangements by Pegg Paxson & Springer.